As Lionel Messi makes a name for himself with Inter Miami, one question is still up in the air: where will the soccer legend call home? If Messi's tastes are anything like those of fellow superstar Lebron James, perhaps he will live in a magnificent mega-mansion? The concept home that architect Jorge Luis Veliz created for Messi and recently released pictures of has the internet in a frenzy. The soccer player himself had a significant influence on Veliz's project in the manner of a normal fan. "The Conceptual Architectural Project of the Messi Mansion in Miami is a work inspired by Lionel Messi's brand logo with its iconic M shape clearly visible from an aerial view," Veliz wrote on Instagram.
This spectacular three-story home offers seclusion and a good position. It is located on a remote island that resembles a ship. This idea home is obviously more than just a lovely appearance. Veliz created amenities with Messi in mind. A 20-car garage for his enormous collection? Check. For his family, a home theater and a game room? Check. A pool with a spiral slide for endless sunbathing fun? Check. a quick access pier with a large number of yachts? Check. Messi gets access to a soccer field as well, where he may train.
Some predict that this renovation would cost $50 million in total. Wow.While some internet users are anxious for Messi to move in as soon as possible, others think that this opulent property is out of place in Messi's portfolio of real estate. A reviewer said, "Amazing, but Messi is not the type of guy to have his name front and center in his home." Someone else remarked, "He doesn't strike me as being *this* flashy."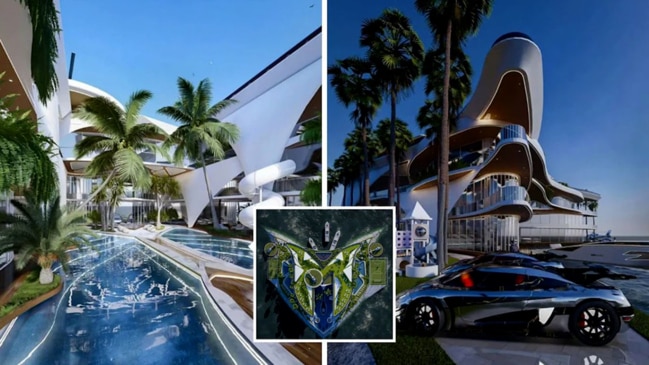 Another person merely stated…"He's too modest for this, though,"But Messi is the one we want to hear from the most. The football player hasn't yet found his Miami property, according to sources. But don't worry; we'll let you know as soon as he does.